National Beer Day in Ocean City!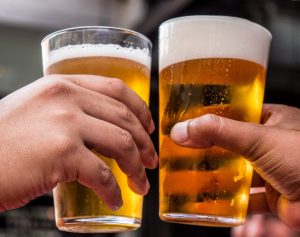 April 7 is National Beer Day, and we can't wait to celebrate! Although no one should need an excuse to enjoy a cold craft brew, this holiday is a great reason to head out to Pizza Tugos and explore the taps.
National Beer Day
As a somewhat newer holiday first created in 2009, the national day celebrates all the way back to 1993. April 7 marks the day that the Cullen-Harrison Act (which legalized the sale of beer and wine of low alcohol content) was enacted and signed in by President Franklin D. Roosevelt.
What's the day before National Beer Day? New Beer's Eve!
Craft Beer at Pizza Tugos
You don't have to wait until National Beer Day to sip on a cold one… Our rotating draft list will never disappoint. From amber and dark lagers to ciders, wheat beers, and pale ales, the Tugos Taproom keeps it interesting by changing up the selection but maintaining your favorite flavors and brews.
If you can't make it in this April 7 for National Beer Day, join us any Tuesday for Pint Night at 5pm. Free glass with purchase!