Monday Night Football Insanity at Pizza Tugos at Pizza Tugos!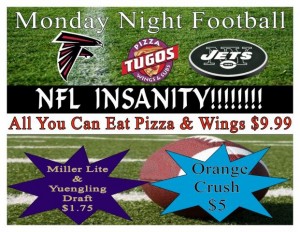 Tonight at Pizza Tugos Taproom in Ocean City, MD, we have a Monday Night Football between the New York Jets and Atlanta Falcons! We have big screen HD TV's strategically placed throughout our restaurant so you can see the game from every angle, Premium Sound System, seating for over 300 people and a game room for the kids. Bring the entire family, we have something here for everyone!
For 30 years, we have been Ocean City's Pizza Boss and now we are also pleasing NFL football fans in OCMD!
See you at the Taproom!