Monday Night Football at Pizza Tugos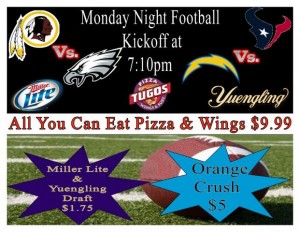 ARE YOU READY FOR SOME FOOTBALL?
Watch Monday Night NFL Football at the best place to watch it in Ocean City, Pizza Tugos Taproom!
Plenty of HD TV's strategically placed throughout our establishment for your viewing pleasure, seating for over 300 people and a game room for the kids. Bring the entire family, we have something here for everyone!
For 30 years, we have been Ocean City's Pizza Boss and now we are the NFL Headquarters!
We have two games tonight with the first kickoff starting at 7:10 between the Washington Redskins and Philadelphia Eagles. Second game will be Houston Texans and San Diego Chargers!
See you at the Taproom!