So Long Summer, Hello Football!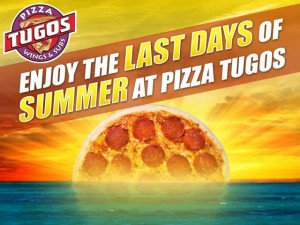 Summer isn't technically over until September 23rd, but in OCMD, Labor Day Weekend typically marks the end of the summer season and the start of another equally fantastic, highly anticipated time of year…football season!! This Labor Day Weekend we are sending summer off in style while simultaneously gearing up for the regular season of the NFL. Get ready Tugos lovers; the fun is just getting started!
As the NFL pre-season wraps up this weekend, your football headquarters will be busy prepping for the 2015-2016 regular season. What to expect? All of your favorite beers and snacks along with plenty of football specials. An abundance of HDTVs, ample bar and restaurant seating, and the best selection of craft beer around makes Pizza Tugos THE place to be this season.
But first…Labor Day Weekend!
The three-day holiday weekend is the perfect excuse to get out of the house to enjoy a summer cocktail at our rooftop Tiki Bar! Before we know it, the cooler evening temperatures will be creeping in, which is why we highly suggest making the most of your summer evenings, right now. Join us for our extensive list of craft beers or treat yourself to a summer cocktail.