The Latest & Greatest at Pizza Tugos in Ocean City, MD!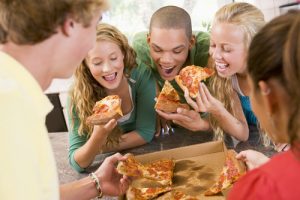 Here at Pizza Tugos we work our hardest to bring you the greatest specials around town and to provide you with an amazing experience. If you need a change of scenery and are looking to get out of the house for the night or if you simply don't feel like cooking, we've got you covered either way! So swing on by and join us for our fun-filled Tuesday Burger Nights and Wednesday Concert Nights! Perfect for a spectacular date night out or some long overdue quality time spent with friends.
If you have not tried one of our burgers…you need to! What have you been waiting for? During Tuesday Burger nights, burgers will be ½ off. And no, you're not dreaming, we really did say ½ off! Not only do you get to indulge in a juicy, delicious burger, but it is also pint night! Burgers and beer are perfect pairing and you'll get a free glass. Tuesday nights will also be BYOV (Bring Your Own Vinyl)! So be sure to dig out your favorite vinyls and bring them with you. We can't wait to play them and hope you are ready to rock out to some classic tunes. There may be some oldies, but they're sure to be goodies!
If you're more of a pizza-lover, stop on in for Wednesday Concert Nights! Enjoy concerts on our 75 inch TV and an XLG Pizza for $9.99 (toppings and tax extra). A deal you can't pass up! You get excellent food and entertainment all for a great price. Pizza is our specialty! And with all of our toppings options, you can customize your pizza with fantastic meats or veggies, and add a dipper as well if you choose to do so. The sky's the limit with all of our topping selections. Come hungry and ready to dance the night away and have an awesome time!
Tuesday Burger Nights and Wednesday Concert Nights are sure to be a blast! Fantastic food, drinks, and music are guaranteed to make your night a great one here at Pizza Tugos! Don't forget, if you're looking for EVEN MORE pizza, we still have our all-you-can-eat pizza and wings special during every NFL game for only $10.99!