Land at Pizza Tugos for the OC Air Show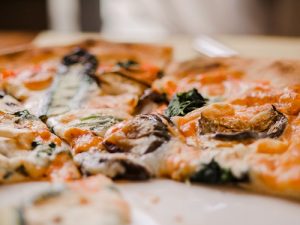 The month of June is bringing tons of exciting events to Ocean City, meaning more reasons to indulge in delicious pizza while in town!
Every year, Ocean City welcomes some of the most well-known pilots and planes to fly through the skies of the beach town. The Blue Angels, Canadian Armed Forces Snowbirds, USAF F16 Viper Demo Team, and others will take flight this year for the 2019 Ocean City Air Show. The Air Show begins at 9am both June 15 and 16.
Come see us at our 18th Street location in town, get your tasty pizza pie to-go, and bring it to the beach to enjoy with the whole family.
Or, avoid the crowds on the beach and come see us for a slice of your favorite pizza while you watch the show. Trying to steer clear of traffic on Coastal Highway altogether? Come see us at Pizza Tugos in West Ocean City and claim your spot on our upstairs deck!