Karaoke in Ocean City, MD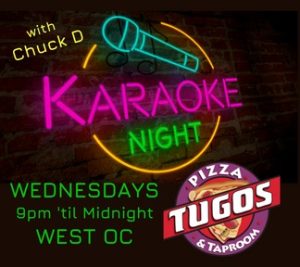 If you're looking for some fun with friends on a weeknight, you've got to come out and enjoy karaoke on Wednesday nights at Pizza Tugos Taproom in West Ocean City, MD. Our beach town has plenty to do year-round and all week long with good food, drinks, and even better company. 
Come show off your karaoke skills (or lack of) with your friends, family, or coworkers and give yourself a midweek break. Browse the Pizza Tugos menu that has something for everyone to enjoy like the best pizza in town, subs, wings, burgers, and more. Plus, while you're singing, we're pouring! The taproom holds over 78 craft beers on tap to choose from including your favorite local and national breweries. 
Events at Pizza Tugos in OCMD
If you love music but don't want to be the one singing, you're in luck! Pizza Tugos live music nights are always a hit. Every Friday night from 9 PM to midnight you can listen to your favorite local bands performing live by the main bar in the taproom. Stay up to date with our live music schedule on the Pizza Tugos Facebook.
If you're ready for summer and missing the tiki bar—don't worry, it'll be open real soon! We have an awesome summer line-up of live music ready to rock the rooftop tiki bar for all to enjoy. Stop by and see us soon!