June Grads, Bring Your Appetites for Tugos Pizza Eating Contests!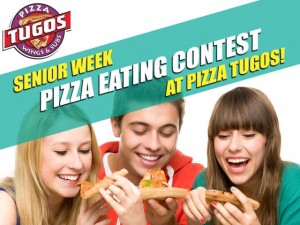 Can you believe June is here?! We sure can't, but we certainly aren't complaining. June brings sunshine, beach weather, and a ton of awesome events to Ocean City, but for recent high school grads, June means one thing…senior week! The Town of Ocean City and the Play It Safe program team up each year in an effort to provide an eclectic mix of safe and fun events for the June Grads to enjoy while visiting us in OCMD. Each year, we contribute to the initiative with specials and activities. This year, Pizza Tugos is partnering with Play It Safe and holding three Pizza Eating Contests for the June Grads/Senior Week crowd.
The first contest will be held this Saturday, May 30 at the 116th Street Pizza Tugos at 2pm. The Pizza Eating Contest will be open to the first 25 guys and 25 girls (June grads only) that attend. Don't think you can handle the competition? No worries, there is plenty of fun to be had watching the epic pizza throw down. Cheer on your friends, watch the pizza contest, or order a slice of pizza (to be enjoyed at a more leisurely place than the contenders of course). Contests will be held Saturday, May 30th, June 6th, and June 13th at 2pm.
Pizza Tugos welcomes June Grads all month long! Both our Ocean City (116th & 18th Streets) and West Ocean City (Route 50) locations offer free – and superfast – delivery until 4am. We're Ocean City's original pizza delivery! Wings, calzones, breadsticks, subs…we've got something for everyone, all at a great price. See you all soon!