Join Pizza Tugos on the Road to the Super Bowl!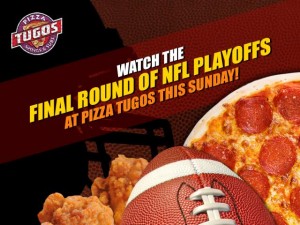 Last weekend marked some major shakeups in the NFL Divisional Playoff games. For our local Ravens fans, the loss was a major blow to hopes at another Super Bowl run, but despite narrowly losing out to the New England Patriots, the game was still a good one, with some serious nail biting moments. Panthers fell, as did Peyton Manning and the Broncos and Tony Romo and his Cowboys. Coming out on top were the Seattle Seahawks, Green Bay Packers, New England Patriots, and the Indianapolis Colts. While none of our local teams are in the mix, we are still excited to revel in all the NFL Playoff action this weekend at Tugos!
We'll start with the libations. Beer and football pretty much go hand and hand, and with our seemingly endless options for craft beers, you can bet you'll find one that speaks to your taste buds. Now, on to the food…giving beer a run for its money for best football partnership are pizza and wings; which is exactly why we offer our AUCE pizza and wings specials during football games! Our wing sauces include hot, mild, BBQ, extra hot, Old Bay, chipotle hot, garlic parmesan, sweet Thai chili, and sweet teriyaki. Our AUCE special includes cheese pizza, but that doesn't mean you can't order a craft pie off the menu, like 'The Godfather', with pepperoni, sausage, ham, ground beef, bacon, green pepper, onions, mushrooms and extra cheese. Not currently into a carb overload? No worries, there are plenty of other options on our menu, including salads. Our West Ocean City Tap Room features a number of inventive salads for those of you still sticking to those New Year's Resolutions.
Whether you stop in for a local craft beer or stay for a full feast, Pizza Tugos is THE place to be this weekend for the NFL Conference Championships. Next stop…the Super Bowl!
Game Day Schedule – Sunday, January 18:
Seahawks vs Packers @ 3:05pm
Patriots vs. Colts @ 6:40pm