It's Time to Celebrate! Tugos Tiki Bar is Officially Open for Business!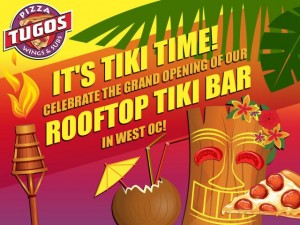 If you've driven past our Tugos location on Route 50 in the past few weeks, then you have probably noticed some serious work being done along the roof of the restaurant. Well, we are proud to announce that our rooftop tiki bar is officially open for business! Of course this calls for a major celebration, so we've decided to celebrate all week long with food and drink specials.
In honor of the latest addition to the Tugos Tap House, we're offering happy hour all day and night at our West Ocean City location, including half-priced draft beers and $1.99 cocktails. Our Tap House boasts 78 draft beers to choose from, ALL being offered at half price from now through Friday. And that's not all; we're also featuring a FREE buffet Wednesday and Thursday from 3-6pm. We're certainly not letting the unseasonable weather rain on our parade, so come on in to Tugos and celebrate with us. Drink specials, craft beer, and Ocean City's best pizza…doesn't get much better than that!
As we celebrate the latest addition to Pizza Tugos, we haven't forgotten that June Grads are pouring into town each week to revel in their own celebrations. We welcome the June Grads at all of our Tugos locations, offering a grad special of all-you-can-eat pizza for just $5.99! Congrats grads!