It's the Most Wonderful Time of Year….NFL Playoffs!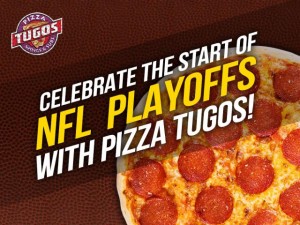 The holiday madness is winding down, and just in time to gear up for NFL playoff madness at Pizza Tugos! As your football headquarters, you can guarantee we are primed and ready for all of the 2015 NFL playoff games, including this weekend's wild card rounds. Sure, we're excited to see the Carolina Panthers battle it out against the Arizona Cardinals Saturday evening, but the real local excitement will happen at 8:15 when the Pittsburgh Steelers face off against the Baltimore Ravens. Whether you bleed purple or black and gold, the Tap Room at Pizza Tugos is the place to be Saturday night.
Sunday is heating up as well, as the wild card playoffs continue. What's more, we're extending our regular season all-you-can-eat pizza and wings special to this weekend's NFL games. Great food and 60-inch HDTV's broadcasting NFL playoffs?!? What more could you want! See you all this weekend…and in the New Year!
Playoff Schedule for January 3rd & 4th:
Saturday:
Cardinals vs. Panthers @ 4:35pm
Ravens vs. Steelers @ 8:15pm
Sunday:
Bengals vs. Colts @ 1:05pm
Lions vs. Cowboys @ 4:40pm