It's the Final Countdown…at Pizza Tugos!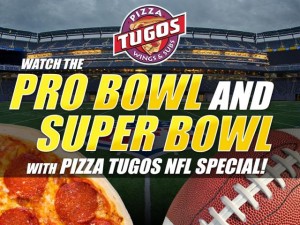 It's hard to believe that the 2016 Super Bowl is upon us….or that it will be Super Bowl 50 for that matter! Last week's playoffs certainly brought a lot of excitement to the Tugos Taproom as Patriots fans suffered a loss in the highly anticipated showdown between Peyton Manning and Tom Brady. Manning and his Broncos proved triumphant, securing a spot in Super Bowl 50 to face-off against the seemingly unstoppable (come on they are 17-1 after all) Carolina Panthers. Cam Newton has impressed all season long, but will it be enough to take down a seasoned veteran like Manning? Well, we'll find out on February 7 won't we! Tugos is primed and ready to serve all of your Super Bowl needs, starting with takeout and delivery for any size Super Bowl party. Wings, pizza, appetizers, subs, salads, pasta…we've got it all. The best part? You don't have to cook a thing! And if you want to avoid the clean up too, why don't you just join us at Tugos for our very own Super Bowl party?! All you can eat pizza and wings will be available as usual, along with our full menu and full bar (which includes the largest selection of craft beer in town!). Super Bowl 50 is scheduled for next Sunday, February 7, at 6:30pm. See you all then!
But before the Super Bowl parties commence…there's still football to be had! That's right; the Pro Bowl is THIS Sunday, January 31 at 7pm on ESPN. We'll be playing it a Tugos, along with the Pro Bowl Draft tonight (Wednesday, January 27). And since its NFL football, we'll be offering our AUCE pizza and wing special during the game. Football season is almost over friends; get it in while you can!