Italian Food in Ocean City, MD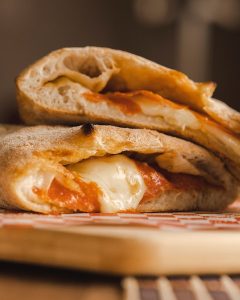 Craving some delicious Italian food for dinner while you're in Ocean City, MD? Whether you're looking for a place to meet up with friends and have a couple of drinks or a convenient pizza spot to refuel after a long day on the beach, Pizza Tugos is the place to be!
Our menu has a wide variety of meals and tasty bites to choose from, especially our pizzas and Italian cuisine. Dine-in, carry out, or order for delivery to enjoy the perfect meal with your vacation crew. Check out some of the most popular menu items we offer at three convenient locations around Ocean City!
Pizza Places in OCMD
Traditional Pizzas
Stick with the classics to feed a group of hungry beachgoers. Choose a regular or extra-large pizza pie with 8 options of meat toppings and 9 options of veggies.
Craft Pizzas
Let us take care of the creative combos and try one of our favorite craft pizza recipes!
The Godfather: pepperoni, sausage, ham, ground beef, bacon, green pepper, onion, mushroom, extra cheese.
The Meat: pepperoni, ham, sausage, ground beef, bacon, extra cheese.
Cheeseburger: ground beef, bacon, pizza cheese, sliced American cheese, pickles.
Veggie: green pepper, mushroom, onion, extra cheese.
King Caine: crab, shrimp, artichoke, sliced tomato, old bay cream sauce.
Mystic Mushroom: mushroom, artichoke hearts, green olive, feta cheese.
Calzones
Calzones are a delicious close relative to a pizza. The Italian oven-baked folded dough can contain all the same yummy toppings you'd include on your pizza. Try our Philly steak, pepperoni, meat, veggie, or cheese calzone next time you visit!
Subs, Wraps, Burgers & Wings
While Pizza Tugos is well known for our delicious pizza and Italian food options, we also offer a variety of subs, craft burgers, and popular wings. There's something for everyone in your family to enjoy when you order from us! 
If you're visiting Ocean City, MD this summer, make sure to enjoy a meal from Pizza Tugos while you're here. With fast and free delivery, we can have pizzas at your door before you can say "Pizza Tugos"! Order online or visit any of our three locations in town.