Have the Perfect Party at Tugos!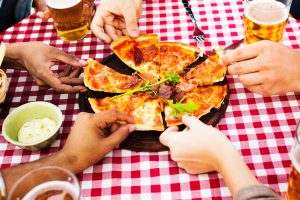 Whether you're looking to throw a small party for your Elementary School age son or daughter and friends, or in search of a location to throw your end-of-the-summer staff party for your local business… Pizza Tugos has the secret ingredient for your party's absolute success: Pizza!
We have plenty of different options for our onsite parties, and we hold the key to the happiness and satisfaction of your party guests.
Our location in West Ocean City has available seating for up to 300 guests along with an inviting outdoor tiki bar! If you're having a party for the kids, the adults can have their own happy hour while they're indulging in cheese, pepperoni and other types of pizza goodies.
Don't want just pizza? Not a problem! At Pizza Tugos, we have our full menu loaded with wings, subs, pasts and more available for our party events. Along with the Tiki Bar at the West Ocean City location, we also have a full bar with wine, cocktails, and nearly 80 different craft beers on tap!
So, even if pizza is not your thing (which is a discussion for later because c'mon, who doesn't like pizza?) we have something for everyone to enjoy!
If you already have a location in mind for your upcoming party, we won't be offended. We are called Pizza "Tugos" for a reason… Get a stack of pizzas and a few orders of wings to go for your party guests to enjoy wherever they may be!