Goodbye Summer, Hello Football!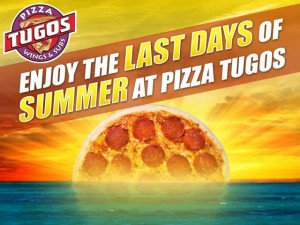 The sun has been out, the water has been refreshing, but as we approach Labor Day Weekend we can't help but feel that summer is coming to an end. As sad as we are to see the end of summer here in OCMD, we are beyond excited for the start of Football season! Help us send the summer off in style this LDW in Ocean City while simultaneously gearing up for the start of regular season NFL football.
With the 2016 NFL pre-season wrapping up this weekend, Pizza Tugos is already prepping for the 106-2017 regular season with plenty of can't-miss games coming up! If you've never been to Pizza Tugos for our NFL Special, then you are in for a treat! Featuring all-you-can-eat pizza and wings for only $9.99!
What else can you expect? An abundance of HDTVs, ample bar and restaurant seating, and the best selection of craft beer. All of your favorite beers and snacks along with plenty of football specials makes Pizza Tugos the local football headquarters in Ocean City, MD!
But before we geat ahead of ourselves, let's talk about Labor Day Weekend!
Our rooftop Tiki Bar is the perfect place to enjoy the three-day holiday weekend! Enjoy a refreshing summer cocktail or craft beer with the beautiful weather we've been having. Make the most of the end of summer before the cooler temperatures set in and head on down to Pizza Tugos!