Get Hooked on Pizza Tugos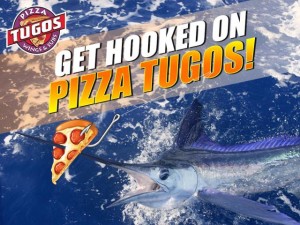 Ocean City is just days away from one of the biggest events of the summer…the White Marlin Open! The annual tournament is a major event for our town and it just so happens to be the world's largest bill fishing tournament. Over 300 boats typically participate in the five-day tournament, vying for over $2 million in prize money. For spectators, the event is equally as exciting with daily weigh-ins at the Harbour Island Marina on 14th Street. Major crowds turn out to watch as massive fish are hauled up onto the docks to be weighed. As the week goes on, excitement builds as the competition heats up. Definitely a must-see event for anyone in Ocean City!
Of course, an afternoon at the weigh-ins or a full day of fishing can really work up an appetite, which is why a late night or last minute pizza delivery order can seriously save the day. All three Pizza Tugos locations offer free delivery in 30 minutes or less. We'll even deliver as late as 4am! What's more, we have online ordering to make your life that much easier. White Marlin Open is a busy one in Ocean City, fuel up with Ocean City's favorite pizza and head to the docks to enjoy the fun.