Fun-Facts About Pizza!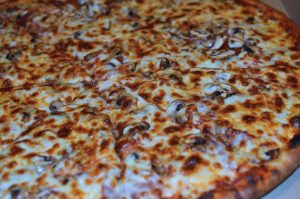 We all claim to be "pizza-lovers," but just loving the taste of melted cheese and warm, fresh, melt-in-your-mouth crust is not enough! In order to be a true pizza-lover, you have to know some fun-facts about pizza!
93% of Americans that eat pizza, do at least once a month. According to a recent survey by Mintel, it is estimated that 93% of Americans who eat pizza eat it once a month.
The most expensive pizza in the world costs a whopping $12,000. Luis XIII in Salerno, Italy serves the world's most expensive pizza with a price tag of $12,000! The dough is aged perfectly. The best part? The chief arrives at your home to cook the pizza in your very own kitchen! Some ingredients include three types of caviar, lobster from Norway, Cilento, bufala mozzarella cheese and grains of pink Australian sea-salt from the Murray River. It makes sense why it is the most expensive pizza in the world.
The Hawaiian Pizza was invented in Canada, not Hawaii!
Pepperoni is the topping winner! It's no surprise that the most popular pizza topping is pepperoni. Sausage came in number two, according to a HarrisPoll taken in January 2016.
Pizza is a 37 billion dollar industry. Wow! Pizza is stimulating for the American economy. According to the American Pizza Community, US Pizzeria's employ over a million people in 73,000 stores across the country… It looks like we went into the right business here at Pizza Tugos!
Philadelphia, Pennsylvania has a Pizza Museum: Pizza Brain. It's the world's largest collection of pizza-related items.
Pizza was not always sold by the slice. Back in 1933, Patsy's Pizzeria in New York City was the first place to sell pizza by the slice. Before that, it was only sold by the pie, but selling by the slice took off like wildfire thanks to Patsy!
The largest pizza in the world was 131ft in diameter and weighed 51,257lbs.
One of the first Internet purchases was a pizza. The order was pepperoni with mushrooms and extra cheese. This was one of the first recorded purchases made online around 1994. Now, we don't think twice about ordering a pizza online!
All of these pizza fun-facts made our mouths water… Order online or stop in to see us, and share your favorite pizza facts!