For the Love of Boats at Pizza Tugos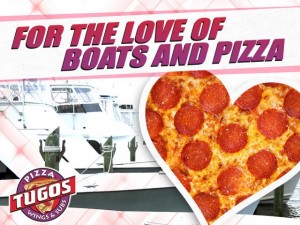 Football season may be over at Pizza Tugos but that doesn't mean we don't still have a busy weekend ahead; in fact, it's Valentine's Day Weekend, President's Day Weekend, and Boat Show Weekend here in Ocean City! So whether you love boats, the long weekend, or, well, love, there's a reason to be celebrating in Ocean City, MD.
We'll start with the obvious…Valentine's Day. Love it or hate it, Valentine's Day marks the perfect opportunity to get out of the house and grab dinner and a drink with a loved one, whether it's a friend, family member, or Valentine's Day date. We've got more than just pizza at the Taphouse in West Ocean City; our menu includes pasta, subs, salads and more, all of which pair quite nicely with our full bar and expansive craft beer list.
In addition to romantic overtures, flowers, and candy, the weekend also includes hundreds of boats. The Seaside Boat Show returns to the Ocean City Convention Center this weekend. The show, which is held Friday (11am-7pm), Saturday (10am-7pm) and Sunday (10am-5pm), features electronics, dock builders, boat lifts, crafts, canvas, archery display, fishing rods, paddle boards, artists, and over 350 boats. Spend an afternoon perusing the show before cruising into Tugos to refuel on lunch or dinner.
Finally, its President's Day Weekend, which means many of our guests will be enjoying a three-day weekend. The long weekend means an extra day to enjoy yourself despite the frigid temperatures that are headed our way. Warm up with us at the Taphouse and beat the cabin fever by getting out and treating yourself to lunch and/or dinner. We'll be here all weekend long!