Football, Fall Beers, and Fall Fun at Pizza Tugos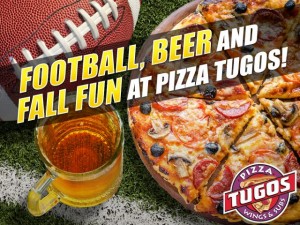 October means an abundance of fall fun is in store for us, including football, the return of some of our favorite fall beers, and plenty of festivals for our patrons to partake in before joining us at Pizza Tugos. Currently on our radar are Oktoberfest-inspired events, including two that are just a short drive from Tugos – Berlin's Octoberfest celebration and Ocean City's O.C.toberfest. In Ocean City, O.C.toberfest spans several weekends, and includes a Howl-O-Ween Pet Parade this Saturday, followed by the Drive in Disguise Halloween Parade next Saturday. Any day this weekend or next, head to the beach at North Division Street to explore the Beach Maze.  In Berlin, Octoberfest celebrations are scheduled for this Saturday (Oct. 17) from noon until 6pm with fun for the entire family. Kids activities, pumpkin painting, scarecrow making, polka music, live music, beer by Burley Oak Brewing Company, a full sidewalk sale and more await you. Get your fill on Octoberfest fun and then head to the Taphouse at Tugos to enjoy our massive selection of fall beers.
Speaking of fall beer, what pairs best with fall beer? Football of course! We're eying another fantastic weekend of football all weekend long, including college games all day Saturday and NFL games Thursday night, all day Sunday, and Monday night. For all of our NFL games, enjoy AUCE pizza and wings for just $9.99. Take a look at this week's football schedule and schedule your own visit to Pizza Tugos for great food, good people, and fun times!
Thursday, October 15th
Saints vs. Falcons @ 8:25pm
Sunday, October 18th
Redskins vs. Jets @ 1:00pm
Steelers vs. Cardinals @ 1:00pm
Bengals vs. Bills @ 1:00pm
Broncos vs. Browns @ 1:00pm
Seahawks vs. Panthers @ 4:05pm
Chargers vs. Packers @ 4:25pm
Ravens vs. 49ers @ 4:25pm
Patriots vs. Colts @ 8:30pm
Monday, October 29th
Eagles vs. Giants @ 8:30pm