Flying High with the Maryland International Kite Expo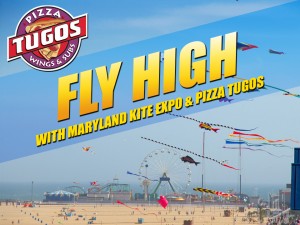 Another fun-filled weekend awaits us in Ocean City, Maryland, as we continue to enjoy all that the spring season has to offer at the beach. The spring weather may be unpredictable here on the Eastern Shore of Maryland, but what we can count on are plenty of family-friendly events to enjoy every weekend. This weekend, we have our sights set on the 22nd Annual Maryland International Kite Exposition. The Town of Ocean City and The Kite Loft welcome you to join them on the beach and Boardwalk at 4th Street for three fun-filled days of kite flying. The festival showcases some of the best kite flyers from around the world, along with kites of all shapes and sizes on display. For the kids, there's plenty to do, including free children's games and activities. The festival will also include exhibitions and demonstrations, including stunt and power kite lessons.
Bring your family out to the boardwalk in Ocean City this weekend to enjoy the Kite Expo and then hop on over to Pizza Tugos for family lunch or dinner. Our West Ocean City location is perfect for family gatherings, with a full game room and a ping pong table to enjoy. Kids Menu items include chicken fingers and French fries, personal size pizzas, and spaghetti (with or without sauce of course). For the rest of the family, pick any of the options off of our massive menu, which includes a little bit of everything, from baked ziti to philly cheesesteaks to spinach salad. Of course there are countless options for pizza, along with a full bar to wash it all down. Include Pizza Tugos in your family adventures this weekend; we look forward to seeing you!