Fall in Love with Pizza this Valentine's Day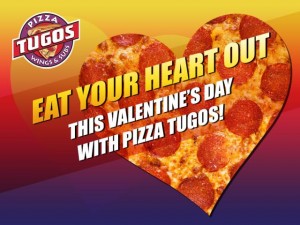 Did you know that Valentine's Day 'conversation hearts' have a shelf life of five years?? Certainly makes them less appetizing….
Or how about the fact that there have been eight St. Valentine's throughout history, three of whom had special feast days in their honor…
During the 1700s in England, on the eve of St. Valentine's Day, girls would pin four bay leaves to their pillows and eat a hard-boiled egg, including the shell, for luck in love…
They say love is a universal language, but did you know that pizza (invented in Naples in the 1860s) is one of the few words that is universally understood??
Ok, so what do all of these random Valentine's Day/food/pizza facts have in common, and more importantly, why are we talking about them? Well, for starters, Saturday is Valentine's Day. Second, most of you are probably scrambling to make some sort of last minute plans. And third, who doesn't love random facts!?
Instead of filling your bellies with conversation hearts, or honoring the holiday traditions with a hardboiled egg, why not honor the day by feasting on pizza, the universal food we all love! Let's face it, Valentine's Day is overrated; however, it does provide an excellent excuse to get out of the house on a cold, February night to share a pizza pie with your significant other, friend, or even yourself! Warm your heart and your bellies with one of our craft pizzas, followed by a generous helping of your favorite beer, wine or spirit. Skip the candies, roses, and cards and opt for a night out celebrating your love for pizza, right here at Pizza Tugos. And please, leave the conversation hearts at home…