Easter Sunday at Pizza Tugos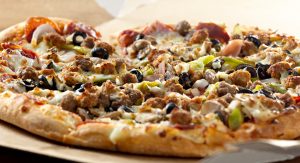 If you don't have any plans for Easter Sunday, or simply don't feel like cooking a huge meal that will give you weeks of leftovers, do not fear because Pizza Tugos in Ocean City, MD is open this Sunday! What better way to spend Easter Sunday than with a few slices of pizza, and maybe a beer or two if you're feeling frisky.
Pizza Tugos is the place to be if you have a large appetite. Our famous pizza is a favorite among patrons that stop in to visit us. If you're a go getter when it comes to pizza we have plenty of craft pizza options including The Godfather, the Mystic Mushroom, and you can even combine two classic foods with Cheeseburger pizza which includes ground beef, bacon, pizza cheese, slices american cheese and pickles.
Along with our craft pizza, we even offer craft burgers like the Pub Club, the Earth and Turf, and the Hella Good which includes bacon, caramelized onions, jalapenos, sriracha and mayo. If you're looking for a meal other than pizza or burgers on Easter Sunday we offer full on entrees such as Baked Ziti, Coconut Shrimp, Steak and Frites and even Pork Rib Eye. All big plates come with french fries and a small side salad.
Now for the good stuff. We offer over 60 craft beer selections. There is no doubt you will find an oldie but goodie or discover beer that you've never heard of! We offer different types of beer, too! Do you like India Pale Ales? We got 'em! Dogfish Head, Burley Oak and Flying Dog are some featured breweries that offer IPAs at Pizza Tugos. If you're not an IPA person, we offer other selections such as Belgians, Stouts, and even Lagers.
Food and craft beer is the perfect recipe for a relaxing Easter Sunday meal. So come out on Easter Sunday and stop in to visit us! No matter the reason, you are always guaranteed a good time at Pizza Tugos!