De-Stress & Unwind at Pizza Tugos Taproom!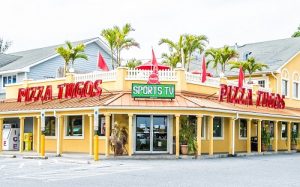 April flowers bring May showers, but along with warmer weather, blooming flowers, and everything "Spring," this time of year tends to bring a lot of stress, too! April is Stress Awareness Month, and what better way to de-stress than a cold beer fresh slice of pizza at Pizza Tugos!?
Stress can take a huge toll on your body. It's a part of life that s sometimes unavoidable, but it's important to cope with it. A night out with a few friends, or a couple of beers at our West Ocean City Tap Room, can be the cure!
Relax, unwind, and indulge in your favorite foods. Top your pizza pie with delicious veggies like mushrooms, sweet peppers, jalapeno peppers, black olives, pineapple, and more.
Stress awareness is great, but getting rid of that stress with some pizza and beer is even better!