Concert Wednesdays at Pizza Tugos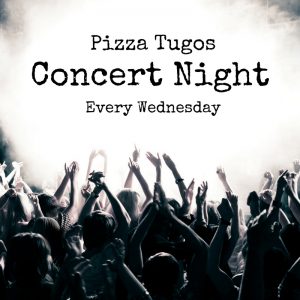 Have you ever wanted to attend a concert but haven't had time or maybe tickets were too pricey? Pizza Tugos in Ocean City, MD wants to give our customers an ultimate and unique experience when visiting. Every Wednesday, we offer live concerts on our 75" HD televisions! But wait, it gets better! We even offer half priced pizza during our live concerts to say "thank you" for jamming out with us. If you enjoy the taste of delicious pizza and love rockin' out to live music, what better way to spend your Wednesday than with us?
Here at Pizza Tugos we want to offer fresh and delicious food to our customers, so we have mastered the perfect recipe for our pizza. Our customers have the opportunity to build the pizza of their dreams with all of the toppings we have in store. Add meat toppings such as pepperoni, steak and even pulled pork or add veggie toppings like onions, tomato and even artichoke hearts! If you already had pizza for dinner the past two nights, but still want to enjoy our rock out session, our menu is full of other great items. If you're looking for another silverware free meal, we offer various craft burgers like The Boss, Big Bubba, Rocky Top, and even the spicy Burnin' Love. Subs and sandwiches are always an option, too!
Want to enjoy a nice cold one as if you were attending a real concert? Over 75 craft beers are featured on tap giving you a very hard decision to make. From IPAs to Lagers and Stouts, there are plenty of options to choose from! Not a fan of beer? Sip on some of our hand crafted cocktails such as the Kaserita, the Angry Captain, or the Brass Tack. But it doesn't stop there, folks. We offer five different white and red wines for the wine lovers out there! It's wine o'clock somewhere, right? Regardless, you're bound to find something here you'll love.
No matter what you eat or what you drink or like on your pizza, you are guaranteed a good time here at Pizza Tugos in OCMD. So sit back, relax, enjoy the sweet sounds of live music, and enjoy a nice and flavorful meal!