Coca-Cola Freestyle Fountain available at Pizza Tugos in Ocean City!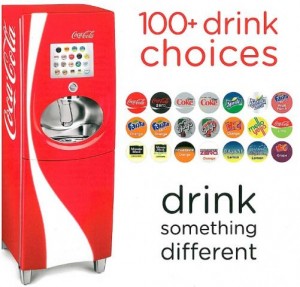 When you go out to eat, you don't want to be limited on simply 5 different types of meals so why would you settle for only 5 different flavors of soft drinks? At Pizza Tugos in Ocean City, we now serve our soft drinks and beverages from the Coca Cola Freestyle! With over 100 flavors, we give you the choice that others do not!
The Coca Cola Freestyle is all about you! Your choice, your taste, your drink. Its more than the new way to quench your thirst. It's the refreshing new way to express yourself.
Explore refreshment your way, with over 100 choices at your command. From sparkling to diet to caffeine-free, it's all here, right at your fingertips. Some brands you know and love, some are only available on Coca Cola Freestyle Fountains!
Here is the current list of flavors at Pizza Tugos in Ocean City!
Coca Cola: Regular, Cherry, Cherry Vanilla, Lime, Orange, Raspberry, Vanilla
Diet Coke: Regular, Cherry, Cherry Vanilla, Lime, Orange, Raspberry, Vanilla
Diet Coke (Caffeine Free): Regular, Cherry, Cherry Vanilla, Lime, Orange, Raspberry, Vanilla
Coca Cola Zero: Regular, Raspberry, Vanilla, Cherry, Cherry Vanilla, Lemon, Lime, Orange
Sprite: Regular, Cherry, Grape, Orange, Peach, Raspberry, Strawberry, Vanilla
Sprite Zero: Regular, Cherry, Orange, Grape, Peach, Raspberry, Strawberry, Vanilla
Mello Yello: Regular, Peach, Orange, Grape, Cherry
Mello Yello Zero: Regular, Peach, Orange, Grape, Cherry
Barq's Root Beer: Regular, Vanilla
Barq's Diet Root Beer: Regular, Vanilla
Dr Pepper: Regular, Cherry, Cherry Vanilla
Diet Dr Pepper: Regular, Cherry, Cherry Vanilla
Pibb Xtra: Regular, Cherry, Cherry Vanilla
Pibb Zero: Regular, Cherry, Cherry Vanilla
Dasani: Cherry, Grape, Lemon, Lime, Orange, Peach, Raspberry, Strawberry
Dasani Sensations: Cherry, Grape, Lemon, Lime, Orange, Peach, Raspberry, Strawberry
Fanta: Cherry, Fruit Punch, Grape, Lime, Orange, Peach, Raspberry, Strawberry
Fanta Zero: Cherry, Fruit Punch, Grape, Lime, Orange, Peach, Raspberry, Strawberry
Hi-C: Cherry, Fruit Punch, Grape, Orange, Orange Vanilla, Raspberry, Raspberry Lime, Strawberry
Minute Maid Lemonade: Regular, Cherry, Orange, Raspberry, Strawberry, Fruit Punch
Minute Maid Lemonade Light: Regular, Cherry, Orange, Raspberry, Strawberry, Fruit Punch
Powerade: Cherry, Fruit Punch, Grape, Lemon, Lime, Orange, Raspberry, Strawberry
Powerade Zero: Cherry, Fruit Punch, Grape, Lemon, Lime, Orange, Raspberry, Strawberry
Seagrams Seltzer Water: Original
Seagrams Ginger Ale: Regular, Cherry, Lime, Orange, Raspberry, Vanilla
Seagrams Diet Ginger Ale: Regular, Cherry, Lime, Orange, Raspberry, Vanilla