Celebrate National Pi Day at Tugos!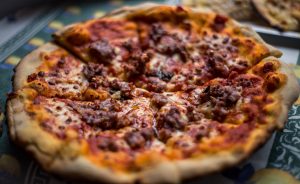 Pi Day is tomorrow and we're not talking about apple, blueberry, or butter pecan… Celebrate this National Pi Day with Pizza Tugos and indulge in the best "pi" out there: pizza pie!
From pie eating contests to binge-watching Life of Pi, there are countless ways to celebrate Pi Day wherever you are. Each year on March 14th, pi-enthusiasts celebrate the mathematical symbol pi "π." Each year on March 14th, we celebrate our love and enthusiasm for our favorite type of pie!
Join us this holiday for a slice of your favorite kind of pizza, because there is no better excuse than National Pi Day.
Have you tried our King Caine Pizza? This craft pizza is a token item on the menu, loaded with crab, shrimp, artichoke, sliced tomato, and old bay cream sauce. Not for you? Try one of our local favorites, The Godfather. With pepperoni, sausage, ham, ground beef, bacon, green peppers, onion, mushrooms, and extra cheese, you can't go wrong!
Check out our full menu here!