Celebrate National Comfort Food Day at Pizza Tugos!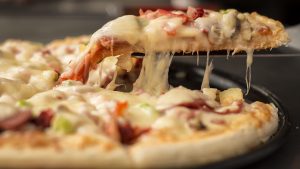 Today is National Comfort Food Day! What better comfort food is there than a delicious pizza fresh out of the oven?!
There have actually been psychological studies that have proven an individual's comfort food cravings are typically based off of artifacts from our past. On average, women tend to look for comfort from sweet and sugary foods, while men tend to look for it in more hearty, savory foods like steak, pizza, and soup.
Stop into Pizza Tugos today to indulge in your favorite pizza! This National Holiday is a great excuse to splurge and get all the comfort you can out of our doughy, cheesy slices of heaven.
And the fact that this holiday falls on a Wednesday must be a special sign… Pizzas on Wednesdays at Pizza Tugos are half-price! Don't worry, we offer this for both dine-in and carry-out orders, so if you want to enjoy this comfort food in the comfort of your own home, we understand!
If you're joining us in the restaurant, don't forget to wash down that comfort with a cold craft beer or cocktail!