Catch the Summer Breeze at Tugos New Rooftop Tiki Bar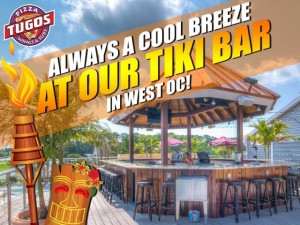 Summertime and the living's easy here in Ocean City…especially now that our West OC location includes rooftop happy hours and dining! That's right; the Tiki Bar is open, which affords you with the awesome opportunity to enjoy all of your favorite Tugos menu items and refreshing summer libations while taking in the cool breeze on the rooftop. To top it off, Happy Hour specials are available every Monday through Friday, from 3pm until 6pm, featuring half-price beer, $1 slices of pizza at the bar, and $1.99 cocktails. Unwind with us after a long day at work or top off a relaxing beach day with a laid back happy hour at the Tiki Bar.
Of course it wouldn't be summer without a few beach events, including the Ocean Games! Set for this Saturday, July 18 in OCMD, the Ocean Games is an annual event featuring the Swim Ocean City ocean race and the East Coast SUP CUP. What's more, the event aims to raise funds for the Johns Hopkins Brain and Stroke Rehabilitation Program. Pick up some carry-out from any of our Tugos locations and head out to the beach to cheer on the participants. Up for the challenge? Refuel with us post-race at the Tap House or head to the roof for dinner or drinks at the Tiki Bar. We'll be here waiting for you!