Boo! It's Time for a Spooktacular Halloween at Pizza Tugos!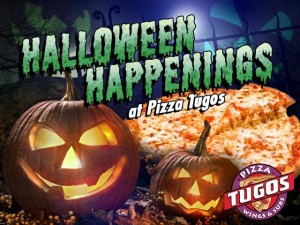 Happy Halloween from the Pizza Tugos crew! Halloween just so happens to be one of our favorite holidays. From the over-abundance of candy to the horror movies on television to the creative costumes we see floating in and out of the bar and restaurant, we love every creepy, creative second of Halloween.
Halloween falls on a Saturday this year, with the majority of local trick-or-treat times falling between 5pm and 8pm, which just so happens to be prime dinner time. If you think you are going to wrangle up the kids and cook dinner before they gorge themselves on candy…think again. Which makes it the perfect night for pickup or delivery from Tugos! Whether you go simple with a couple of our craft pizzas, or switch it up with salads, sides, subs or pasta, it'll make your life much, much easier during the busy evening.
Not trick-or-treating? Well, we've got you covered there too. Stop in Pizza Tugos before your costume parties, contests, and festivities and fuel up on food while starting the night off right with your favorite craft beer or cocktail. Feel free to arrive in costume, we LOVE seeing them.
By Sunday, chances are you will be burnt out on Halloween and ready for a Sunday Funday full of football, food, and fun. It will be business as usual here come Sunday, with $9.99 AUCE pizza and wings for all of the NFL games:
Sunday, November 1st
Lions vs. Chiefs @ 9:30am
Falcons vs. Buccaneers @ 1:00pm
Ravens vs. Chargers @ 1:00pm
Steelers vs. Bengals @ 1:00pm
Giants vs. Saints @ 1:00pm
Jets vs. Raiders @ 4:05pm
Seahawks vs. Cowboys @ 4:25pm
Broncos vs. Packers @ 8:30pm
Monday, November 2nd
Colts vs. Panthers @ 8:30pm