Best Wings in Ocean City, MD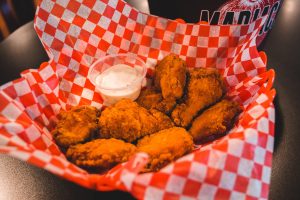 Are you hungry for the best wings in Ocean City, Maryland? If so then you're in luck with Pizza Tugos! While our three locations may be best known for, well, pizza, at Pizza Tugos we have a little secret- we make, sell, and serve some of the most delicious, mouthwatering wings in OCMD!
Enjoy a little bit of heaven when you feast on the best wings in Ocean City at Pizza Tugos! Enjoy some of the biggest, fattest, juiciest wings in town when you order 10, 20, or even 50 wings! Or, if you prefer your wings without the bone, enjoy half a pound of boneless wings! Enjoy the sauce options of mild, hot, extra hot, BBQ, Old Bay, garlic parmesan, sweet thai chili, mango habanero, and sweet teriyaki! 
Not in the mood for wings? Pizza Tugos has you covered! Enjoy a slice of one of our premium craft pizzas, or customize your own because at Pizza Tugos, not only do we have the best wings, but we've also been serving up the best pizza since 1983! 
Best Pizza in Ocean City, MD
At Pizza Tugos, we provide the Ocean City area with the best-tasting pizza across the peninsula! We pride ourselves on our section of craft pizza and pizza toppings, including the Cheeseburger Pizza, King Caine Pizza, and toppings such as steak, chicken, pulled pork, and so much more! Visit Pizza Tugo's at our uptown, downtown, or West Ocean City location to enjoy each slice!
For your favorite pizza, from classic to unique, visit Pizza Tugos! We guarantee that no matter which one you order, as soon as you take that first bite you'll know that you made the right choice!
Free Pizza Delivery in Ocean City
With three locations throughout Ocean City, you can be sure that your pizza will always be delivered on time for a night in with friends, or an easy dinner that will please the entire family! For pizza lovers who are staying in town, our Uptown location is located on 116th St., perfect for out-of-towners and locals who reside on the North end of town. If you're staying closer to the Ocean City boardwalk, our Downtown location on 18th St. is perfect for those who are looking for an easy bite to be delivered straight to their front door after a long day on the beach.
What are you waiting for? Order Online and enjoy Fast and Free Delivery when you Carry-Out with the Best Pizza in Ocean City, Maryland.