Best Ways to Eat Leftover Pizza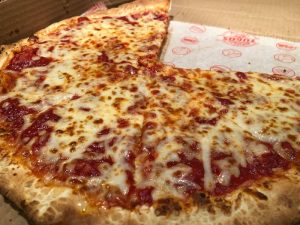 What's the second-best thing to a fresh, hot pizza that's delivered right to your door? When you have leftovers of that pizza! At Pizza Tugos, we make lots of pizza and sometimes we just can't eat it all in one sitting. But we're okay with that because it means we get to enjoy it tomorrow!
There's really no wrong way to eat leftover pizza, but there are better ways than others and we are happy to share those with a fellow pizza lover! Try some of our favorite ways to enjoy leftover pizza the next time you order a delicious Pizza Tugos pie. 
5 Things to Do With Leftover Pizza
1. Reheat and Enjoy
Do you throw your leftover pizza in the microwave to reheat it? There are plenty of different ways to reheat your pizza slices and have them taste good as new! 
Heat in the toaster oven for warmth and to regain some of that crisp you can't get back from a microwave. 
Cook in a medium-hot skillet for two to three minutes, covered loosely with a lid. A great way to get some of the melty cheese back!
Use a baking sheet covered with foil to heat up slices at 450 degrees Fahrenheit for about 10 minutes until the cheese bubbles and it looks ready to eat.
2. Pizza for Breakfast
Who says you can't enjoy a nutritious breakfast with pizza? We say you can! Adding pizza bites to scrambled eggs is the perfect cheesy addition. Or treat yourself to a yummy breakfast casserole made with leftover pizza, eggs, your meat of choice, cheese, and some veggies for a hearty morning meal.
3. Pizza Sandwich
Pizza panini, pizza grilled cheese, pizza hot dog (is a hot dog a sandwich??), the options are endless when it comes to using leftover slices as a bread substitute for your favorite sandwiches. 
4. Pizza Croutons
Cut up your leftover pizza, especially the delicious Pizza Tugo crust, and add it to your favorite soups or salads. Tomato soup with pizza bites? Yes, please! Do you like dipping your pizza in ranch dressing? Then you'll love a crunchy salad ingredient of leftover pizza.
5. Upgrade 
Revamp your Pizza Tugos pizza with ingredients you may have around the house. Extra chicken or sausage? Add it to your leftover slices with more sauce, cheese, maybe a sprinkle of red pepper flakes, and now you have a new tasty snack to enjoy that's different than the original pizza you ordered. 
The only way you can try these tricks is by ordering more pizza and we're happy to help with that! Pizza Tugos provides fast and free delivery all over Ocean City, MD, and is open late to serve you anytime. Choose Pizza Tugos for all of your pizza needs and check out our menu for more delicious options you don't want to miss out on!