For the Best Selection of Craft Beer on the Shore, Head to Pizza Tugos!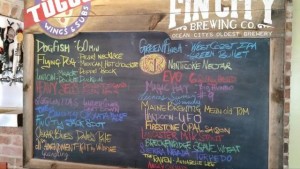 At Pizza Tugos, we pride ourselves in serving up the best pizza in town, but what you might not know is that we also pride ourselves in stocking the finest selection of craft beer on the Eastern Shore! Pizza and beer go hand-and-hand, so creating a Tap Room was a natural progression for us at our West Ocean City location. Of course we couldn't just settle for your average beer menu either, we went BIG, with an extensive selection of craft beers that has continued to grow larger and larger with each passing year. We're proud to house the best selection of craft beer on the Eastern Shore, with a variety that caters to all taste buds.
With 78 craft beers on tap, we guarantee you'll discover a new favorite beer to sip on as we head into football season. Dogfish Head, Evolution, Duclaw, Fin City, Union, Flying Dog…these are just a few of the local Maryland and Delaware beers you'll find on tap at Tugos. But that's not all; we also feature beers from Vermont, Colorado, New York, California, and Missouri, to name a few. International beers? You bet! What's more, our knowledgeable bartenders are on hand to help you find the perfect beer to fit your mood. Have something in particular that you are looking for? We've got you covered. With an amazing amount of access to specialty beers, we can find just about anything you are interested in. Just another reason we consider our selection the BEST on the Eastern Shore. Cheers!