August 24th is National Maryland Day!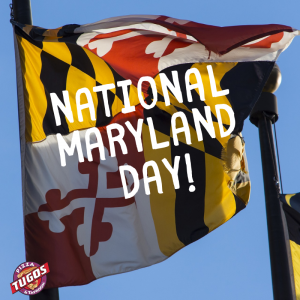 On August 24th we honor the best state in the nation (we're not biased at all) with National Maryland Day! Maryland's coastal location brings a deep-rooted maritime heritage that spans from the Chesapeake Bay to the boardwalk, and no trip to Maryland is complete without visiting the town of Ocean City for lots of fun and good eats! At the top of any list of must-try spots is Pizza Tugos, serving up some of the best (and most convenient) pie in town at any of our three locations! 
It's no surprise that at Pizza Tugos we love our state! And we try to honor our local cuisine with specialty menu items that are sure to satisfy any appetite! Stop in today to try some of our seriously awesome Maryland-inspired options!
Our specialty Old Bay wings are some of the biggest, fattest and juiciest wings on the Eastern Shore and after being generously tossed in Maryland's favorite seasoning, these are a must-have for any trip to the beach! And what trip to Maryland is complete without a crab dip appetizer? Us Marylander's know our crab better than almost anything, and at Pizza Tugos our jumbo-lump crab dip is served with a generous portion of tortilla chips that makes for an awesome starter to any meal!
We know what you want out of your pizza joint- and that's awesome pizza and craft brews! Our King Caine pizza is one of our craft pizza options that is a true local favorite. Piled high with crab, shrimp, artichoke, sliced tomato, and an Old Bay cream sauce, the King Caine is legendary in OCMD and is a must-try while visiting! With all this crab and Old Bay you're sure to work up a thirst, which is why at Pizza Tugos we stay stocked with local craft brew favorites like Burley Oak, RAR, Evolution Craft Brewing Co, Tall Tales and more! 
Stop by any of our three Pizza Tugo locations today in Ocean City, Maryland, and celebrate the best state with us!