August 10th is National Lazy Day!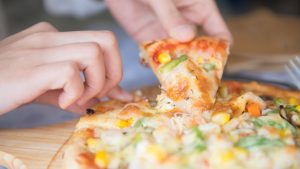 Friday, August 10th, is National Lazy Day… Yes, it seriously is! We can't think of any better way to spend this holiday then in bed with an extra-large pizza and a good movie! If the sun is shining and you're itching to be outdoors, enjoy your delicious pizza on your back deck or by the pool with a good book and a cold beer!
Order online and have your delicious pie brought right to your door. You can quickly and easily order with us online at any of our three locations, logging in as a guest, or creating your very own Pizza Tugos account. (We always recommend the second option, because it will make all of your future online orders much easier.)
Since it's National Lazy Day, it's the perfect excuse to treat yourself to something special! While our basic cheese pizza is delicious, our specialty craft pizzas will fill your tummy with just what it's looking for.
Ranging from a simple Craft Hawaiian Pizza, topped with pineapple and ham, to our Craft Godfather Pizza, topped with pepperoni, sausage, ham, ground beef, bacon, green peppers, onions, mushrooms and extra cheese… there's something that will satisfy everyone's taste buds!
Take advantage of the world's "O.K." to be lazy today, and indulge in that little (or big!) slice of heaven.