Artists Paint OC…and Pizza Tugos!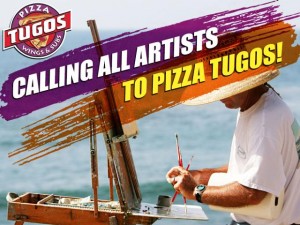 Calling all artists! Plein Air in OC is upon us, which means artists from all over will descend upon our resort town to paint our beautiful landscape and unique beach life for the annual event. The 2015 Artists Paint OC event brings artist to the streets, boardwalk, harbors, bays, and even right here to Pizza Tugos to paint 'en plein air,' which means outdoors, directly from life. With our brand new Tiki Bar at our West Ocean City location and our outdoor seating at our 116th Street location, there are ample opportunities for artists to set up shop and paint to their heart's content. To register, simply visit artleagueofoceancity.org, grab your supplies, and join us!
And for the unartistic members of the bunch, join us outside anyway and enjoy our terrific happy hour specials! Happy hour is every Monday through Friday from 3pm until 6pm with specials including $1.99 cocktails, half-price beer, and $1 slices of pizza (at the bar). Summer may be winding down but there's still plenty of time to enjoy the outdoors at Tugos, including before and after the White Marlin Open weigh-ins all weeklong. And with football season just around the corner, we're getting our specials lined up, our TVs ready, and our bars stocked. Baseball fans stop in anytime for a cold beverage as your cheer on your team. Enjoy the warm, beautiful weather everyone!