Aloha, The Tiki Bar is Open!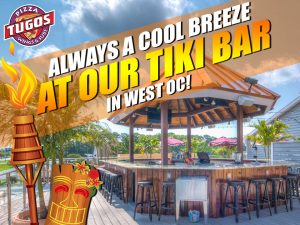 It is officially summer and we could not be more excited! The sun is shining, you can feel the salty sea breeze on your face, and who wouldn't want to enjoy the beautiful outdoors?! Here at Pizza Tugos in West Ocean City, MD, you can enjoy our delicious drinks and fabulous food outdoors at our Tiki Bar. Fun awaits! Bring your friends and family to have a fantastic and relaxing time! Our menu features a large variety of food and beverage with something to satisfy everyone's taste buds no matter how mild or adventurous. So come out and enjoy the drinks, food, and atmosphere here with us at Pizza Tugos.
In our tiki bar area, located atop our West Ocean City location, not only do we offer an outstanding selection of 24 craft beers, but we also offer craft pizza and craft burgers! Want to make your pizza or burger more unique? If you're looking to add something special to turn your pizza into something even more delicious, craft pizza is the way to go! Some of our craft pizzas include the Godfather, the Meat, Cheeseburger, Veggie, White Pizza, King Caine, and Mystic Mushroom. There are so many choices! And our craft burger selection is even larger! It includes the Pub Club, the Boss, Hang Ten, Big Bubba, Hella Good, Black N' Blue, Earth & Turf, Burnin' Love, Rocky Top, and Fun Guy. With names like these, we sure hope we've sparked your interest! Our burgers have fantastic flavors so check out the menu on our website!
Are you looking for a small and light meal? Or do you have a large appetite and want something filling? Either way, we've got you covered! Our menu features both small plates and large plates with so many options from which to choose!
We are thrilled that our Tiki Bar is now open and we know that you will be, too! Outdoor dining in a great atmosphere with wonderful food, drinks, and fantastic service, what better way to grub than at Pizza Tugos?! So build up that appetite whether large or small and meet us at the Tiki Bar! Cheers!