All New Coca-Cola Freestyle now at Pizza Tugos in Ocean City!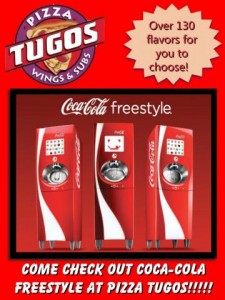 Pizza Tugos now carries the Coca Cola Freestyle Machine!
Come and explore refreshments your way, at Pizza Tugos, with over 130 choices at your command! It is all about you. Your choice, your taste, your drink!
Make your selection from sparkling to diet to caffeine free, we have it all and its right at your fingertips. Many of the brands you are familiar with and some that are only available on Coca Cola Freestyle Fountains!
There are only 3 Coca Cola Freestyle machines in Ocean City and we have 2 of them!