All About Hockey at Pizza Tugos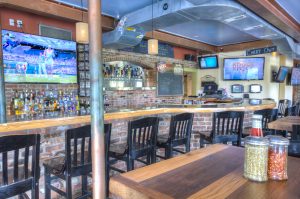 Which team are you rooting for? There are only 3 games left in the finals & it's getting pretty intense. Catch game #5 of the cup here with us at Pizza Tugos! The Golden Knights and the Capitals play tonight at 8 PM and you know you want to catch the game with us. Craft beer…we've got plenty of it. Awesome food…we have lots of that too! And with our huge menu, there is something for every person whether they are a timid or adventurous eater. HDTV's…we have 75 inch screens all over the place! Everywhere you look, you'll see nothing but hockey. Grab a table or a seat at the bar. Order appetizers or a meal, whatever you're feeling! We have everything you need to enjoy the game right here at Pizza Tugos.
Find your friends and head over for the BEST pizza around town and a nice pint (or a few) of ice cold beer! Come hungry, because we have so much fantastic food to treat yourself to. There's nothing better than watching the 2018 cup finals with great friends, great food, and a great beverage. Join us at our West Ocean City, 18th Street, or 116th Street locations to kick back and enjoy the game. We'll be here and ready to serve up some phenomenal food!
Be sure to head over to visit us for the second to last game of the season this weekend as well. Game #6 of the cup is this Sunday at 8 PM and we're ready for a great game! Also, don't forget to mark your calendar for Wednesday, June 13th at 8 PM -the final game of the 2018 cup. Get here early and grab a seat for the BIG game! Are you ready for some great games and even greater food? We know you are!