National Drink a Beer Day | Pizza Tugos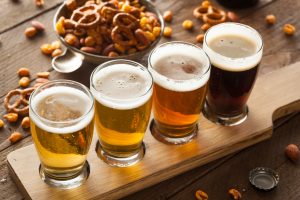 Calling all beer lovers! Trust us, you'll want to read this! Thursday, September 28th is National Drink A Beer Day and what better place to do so than at Pizza Tugos?! We have a massive selection of craft beers and plenty of space at the bar. We'll save you a seat!
Whether you enjoy your beer light, dark, or heavy on the hop, we have the perfect beer for you. We have a vast variety of brewers from the local area to as far as California! Some of our local brewers include Burley Oak, Fin City, Flying Dog, Oliver Brewing, RAR, Right Proper and Union all from right here in Maryland. We also have an extensive list of out-of-state brewers as well. From IPAs, to belgians, to lagers, to stouts, and other ales, we have a beer here for everyone! So order your regular go-to beer, or venture out and try one that you've never had before.
This year, National Drink A Beer Day just so happens to fall on a Thursday and you know what that means…Thursday Night Football! So come on in and indulge in fantastic drinks and food, while watching the game. The perfect combination! Order a pizza and some little plates for you and your friends to share so you can try a little bit of everything we have here to offer at Pizza Tugos. A beer in one hand and a slice of pizza in the other, now that's what we would call an awesome time!
So gather your friends and family and come celebrate with us! Enjoy each other's company, the game, and tasty food and terrific drinks. We hope you're ready to raise your glass with us next Thursday at Pizza Tugos for National Drink A Beer Day!